You may have heard about the goodness of collagen to your skin. Thus, investing in skincare products that contain collagen is one of the best things you can do to replenish your skin's nutrition content.
The 3W Clinic Collagen products are the ones you might like if you are looking for ones that are affordable but work like a charm.
3W Clinic is a fairly underrated Korean skincare brand but their products are truly great given the fact that they're all reasonably priced. This brand mainly focuses on producing skin and body care products. Moreover, they also have a handful of makeup products that also contains good ingredients in them.
In case you are thinking about purchasing one of the 3W Clinic products that feature collagen in them, consider these products below. Moreover, I will not be indicating each product's price as it can extremely vary from one shop to another (online or offline); everything is under $8 nonetheless.
3W Clinic Collagen Cleansing Foam
If you want to replenish your skin's collagen levels, the best thing you can do is to start incorporating products that contain collagen in it. Even in the most mundane product such as a facial wash, choosing one with the ingredients of collagen can bring a handful of benefits to your skin.
Now if you are looking for an affordable face wash that contains a substantial amount of collagen in it, this foam wash from 3W Clinic is the way to go.
This collagen cleansing foam will help remove dirt and bacteria from the pores. It also claims to prevent blackheads and acne and slow down the skin's aging process by increasing collagen levels.
3W Clinic Collagen Eye Cream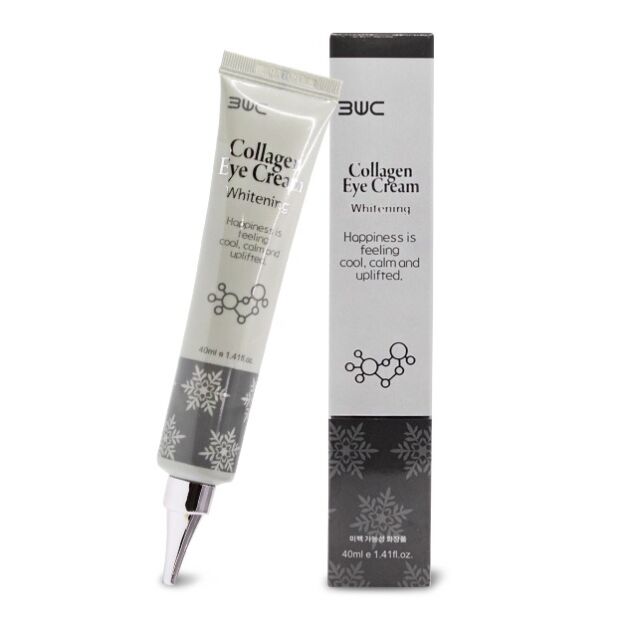 The skin around the eyes is definitely one of the first areas of our face that shows the visible signs of aging. In order to combat the appearance of fine lines and wrinkles, a good eye cream targeted for skin aging is the best product to use.
There are tons of eye creams on the market that cost an arm and a leg but doesn't deliver the best results you want. However, if you are on a budget, that doesn't always mean you can't get good ones.
The collagen eye cream by 3W clinic contains Hydrolyzed collagen, Niacinamide, and Pearl extracts; ingredients that will help brighten and smooth the skin around the eyes.
3W Clinic Collagen & Luxury Gold Essence
This product is one of the luxurious and unique products from the 3W Clinic brand. You may have seen numerous skincare products that feature gold ingredient in it. The 3W Clinic Collagen and Luxury Gold is one of them but possibly a lot better due to the collagen content.
This product claims to be an anti-aging essence that will help revitalize and reduce the signs of skin aging. Below are some of the benefits you can get out of using the Collagen and Luxury Gold Essence by 3W Clinic:
The gold extract helps moisturize and smoothen rough skin texture.
Hydrolyzed collagen promotes skin elasticity and slows down the signs of aging.
Revitalize dull-looking skin.
Promotes smooth and supple skin.
Replenishes the skin's moisture levels.
Quickly absorbs to the skin.
3W Clinic Collagen Sleeping Pack
This product is the perfect one to pick if you want to give your skin a treat every once in a while. A pamper evening will not be complete without a good overnight face mask that will quench your skin. Moreover, pamper evenings don't have to be expensive as you can surely find a number of amazing products such as this collagen sleeping mask.
This collagen sleeping pack by 3W Clinic will help replenish dry skin by providing valuable moisture and nourishment. It can also help improve the appearance of dull and tired-looking skin by returning its elasticity and vivacity the next day.
3W Clinic Collagen Hand Cream  
Last but certainly not the least is a collagen hand cream. You may invest in products that will help maintain your face's youthful appearance but you should never neglect your hands. If you have dry skin it can get dryer, especially on cold weather conditions. Thus a hand cream that will maintain your hands' moisture and get rid of the dryness is a must.
The Collagen hand cream by 3W Clinic contains soluble collagen that moisturizes, nourishes and hydrates the skin. Furthermore, it is subtly-scented and absorbs quickly to the skin which is always a bonus in every hand or body creams.
Even if you think your skin still looks young, investing in products that contains amazing ingredients such as collagen is imperative. Collagen plays a very important role in the skin; it maintains elasticity and moisture thus helping combat the early signs of aging.
Hope you found this 3W Clinic Collagen products buying guide helpful. Let me know if you want a more in-depth review in one of the products mentioned above.
Disclaimer: This post is not sponsored. All opinions are mine and genuine.
Thanks for Reading!
Love,
Vanessa